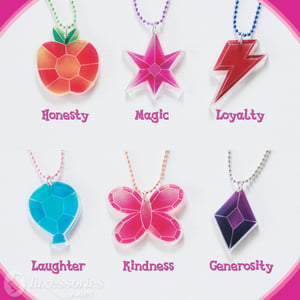 $

8.99
My Little Pendant
Celebrate the magic of friendship!
The jewel designs are printed on crystal clear acrylic with a scratch-resistant frosted finish.
If you'd like to get all six necklaces, you may avail of our Harmonizing Elements Set to get the whole collection at a discounted price!

Click on the thumbnails to view!
Choose one of the elements that create harmony!

Honesty

Kindness

Laughter

Generosity

Loyalty

Magic

Pendant dimensions:
All designs are within 2.1 in (W) x 1.5 in (H)
Chain length:
27 inches


Item: 350 Pesos
Shipping: 90 Pesos
Shipping only applies once per order. Purchase as many items as you'd like and the indicated fee will only apply once per transaction.