Frequently Asked Questions
Products
● What are the pendants made of?
The pendants are made out of acrylic material which are then cut by laser to prevent imperfections.
● How much stock do you keep per item and how often do you restock?
Tuxessories invests on a limited stock per item. We only restock on pieces which are on high demand.
● An item that I want is out of stock, will you restock sold out items?
We encourage you to leave a message through our contact form specifically requesting for the item that you want restocked. Tuxessories will restock popular items provided that customers send inquiries.
● May I request to have the chains fitted to be longer or shorter?
Due to the labor circumstances of our new designs we have temporarily suspended our chain adjustment services

Payment & Shipping
● What shipping service are you using?
Singapore Post Premium Registered Mail handles our international shipping while LBC handles our local shipping.
● If I live in the Philippines, can we arrange a meet-up?
Sorry, we cannot commit to doing regular meet-ups at this time.
● What modes of payment do you accept?
As of now, we only accept Paypal transactions. E-check payments from Paypal are also accepted but product shipping will only commence when the transfer of payment has been cleared. This process usually takes a week.
● How much do you charge for shipping?
Local Shipping has a flat rate of two dollars while International Shipping has a flat rate of six dollars. As of November 2011, the terms with our shipping service provider has prompted us to charge an additional 50 cents for every additional item purchased for international orders. All shipping expense goes directly into expediting our shipments.
● When will my order arrive?
We want to ship your in-stock products as quickly as possible. Items in stock will begin the picking, packing, and shipping process as soon as your payment is confirmed. Processing time before the products are handed to shippers may take 2-5 business days. After that, international postal shipping takes 15-25 business days depending on your area and local post office. Local (Philippine) shipping takes 2 business days.

Delays may be expected during peak seasons such as October to December. The shipping process also does not include the number of days your local customs may need to inspect your product or the number of days it takes for your local post office to send you notice to pick up your product.
● Why does it take so long to ship my order?
Tuxessories is based in the Philippines and it will take a while for orders to be shipped out from our corner of the world to yours. Our online shop is available 24/7 but order processing and shipping takes place within business days. Business days are from Monday to Friday only. Weekends and holidays are not included.

A Tutorial on Shipping Notification and Tracking Your Order
Before sending us questions regarding your shipping, please be guided by the following steps:
STEP 1: FIND YOUR SHIPPING NOTIFICATION
After purchasing from our website, Tux will take 2-5 business days to process your order before shipping. (Business days are from Monday to Friday only. Weekends and holidays are not included.) You will get a notice in your inbox when the shipping has been made. The notification will come from our service, XEND Business Solutions. The e-mail should look like this:




If you do not receive a notice in your inbox within 2-5 business days, your shipping notification e-mail may be in your SPAM box. This email is very important so it is best if you move this notification into your inbox.


STEP 2 : CHECK YOUR EMAIL TO FIND YOUR LINK TO YOUR SHIPPING INFO
Your shipping notification will have very important information so it is best to keep this email in your inbox at all times while your product is on its way to your country. Open the email and you will find the following information:




Click the link in your email, and you will be redirected to your personal WAYBILL PAGE
STEP 3 : CHECK YOUR SHIPPING INFO AT YOUR XEND WAYBILL PAGE. TAKE NOTE OF YOUR WAYBILL NUMBER IF YOU HAVE QUESTIONS
Your XEND WAYBILL PAGE will contain your product information. Your page will also contain important information such as your WAYBILL NUMBER. If you really need help with your shipping or if you have important questions that you need to ask us through our contact form, we need you to send us your WAYBILL NUMBER and your name to be able to help you out.


STEP 4: CHECK OUT YOUR SHIPPING PROGRESS. TAKE NOTE OF YOUR TRACKING NUMBER IF YOU ARE A U.S.A BASED CUSTOMER
When you scroll down your XEND WAYBILL PAGE, you can view information about your shipping progress. You can refer to this page whenever you would like to see progress in your shipping. This page will be updated whenever there are new developments in your product's location.




For U.S.A. BASED CUSTOMERS, this page will also contain your TRACKING NUMBER. You can use this information to check out more shipping progress at the United States Postal Service Website (USPS.com). Important to note that USPS will only have additional shipping information once your XEND WAYBILL PAGE tells you that your product has ARRIVED IN YOUR COUNTRY.
STEP 5: USA BASED CUSTOMERS CAN GET MORE SHIPPING INFORMATION AT USPS.COM
If you are a U.S.A. BASED CUSTOMER and have your TRACKING NUMBER information from your XEND WAYBILL PAGE, Go to USPS.com and you can input your TRACKING NUMBER there.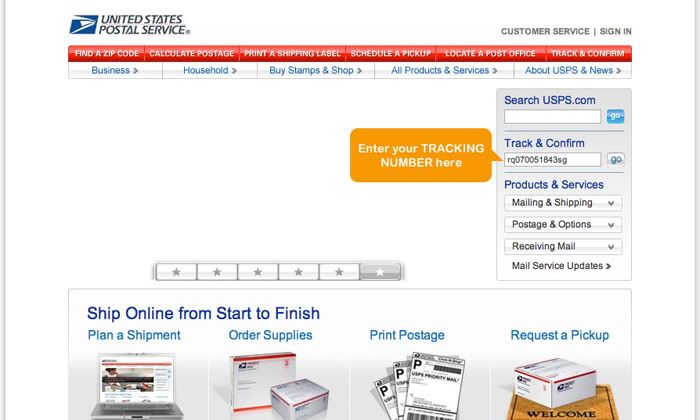 Once you press "go" you will receive further information such as if your item has arrived and if someone has come to your home with your purchase. There are cases where a postal representative has come to your home while you are away. Checking at USPS.COM will clarify if your item has arrived at your local post or not.




It is important to note also that all updates on USPS as well as your XEND WAYBILL PAGE will only be updated during business days.