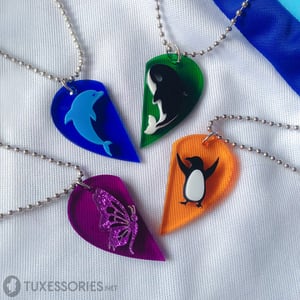 $

29.99
For The Team: Eternal Summer
Note:
$29.99 is the price for a set of 4
$19.99 for a set of 2
$9.99 for a single necklace

Shippers, take your marks!
Do you feel that the dolphin belongs with a gentle orca, or with the hot-blooded shark? Perhaps you'd prefer the uncomplicated penguin and butterfly pair? Or an all out perfect combination of the butterfly and shark?
Keep your freelings and emoceans close to your heart with these mix-and-match necklaces you can share with your best teammates!

The drop-down menu below will give you these choices:
Complete Eternal Summer Set


"For The Team"
5-necklace set ($39.99)
Pair Combinations

"It's meaningless without you!"
A dolphin and orca pair ($16.99)

"I'll show you a sight you've never seen before!"
A dolphin and shark pair ($16.99)

"It's because you looked beautiful"
A butterfly and penguin pair ($16.99)

"ALL OUT PERFECT BODY"
A butterfly and shark pair ($16.99)
Individual Necklaces

"I swim best free for the team"
Dolphin single necklace ($9.99)

"I want to achieve my dream"
Shark single necklace ($9.99)
You can get the individual shark necklace through the Rival Academy listing

"I won't be afraid anymore"
Orca single necklace ($9.99)

"Thank you so much for going along with me"
Penguin single necklace ($9.99)

"I'll come up with a beautiful solution"
Butterfly single necklace ($9.99)

For those who are curious, unconventional combinations like the Orca and Shark can be paired like this.
Please use the drop-down menu at the bottom of the page to select the necklace pair or single necklace of your choice!

Pendant dimensions:
0.96 inches (W) x 1.61 inches (H)
Chain length:
28 inches


Item: 1700 Pesos for a set of five, 700 Pesos for a pair, 400 Pesos for a single necklace
Shipping: 90 Pesos
Shipping only applies once per order. Purchase as many items as you'd like and the indicated fee will only apply once per transaction.